---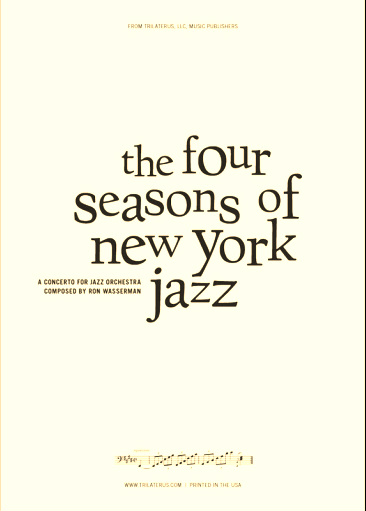 From Jazz Big Band Series:
The Four Seasons of New York Jazz
Composed by Ron Wasserman

A major, evening length concerto/suite. 90 minutes of music featuring all the 17 instruments of the jazz orchestra. Premiered by the New York Jazzharmonic in fall 2015.

For:
5 saxes, AATTB (doubling on clarinets, flutes, sopranos, and bass clarinet.)
4 trumpets (one doubles on flugel)
4 trombones
guitar, bass, piano, drums
Latin percussion doubles.
Vocals (the conductor)
Audience Sing-along on"The Sidewalks of New York"

Full score 10"x14" spiral bound 314 pages
Parts: on rental.
Click on the image at left to download a PDF study score.


---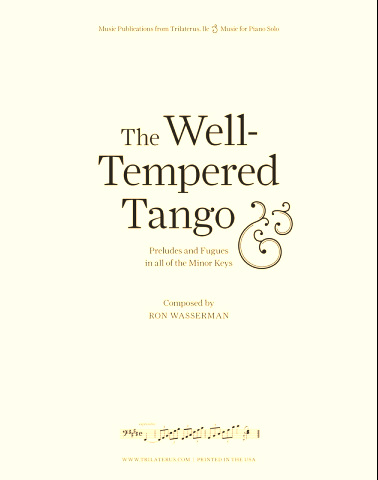 From our solo piano series:
The Well-Tempered Tango
Composed by Ron Wasserman

This is our other recent major work. For piano solo, it's in the Style of the Well Tempered Clavier, but all the pieces are Tangos. Except for a couple of swing numbers thrown in.

Full performance edition: 13" x 10.25" 88 pages


---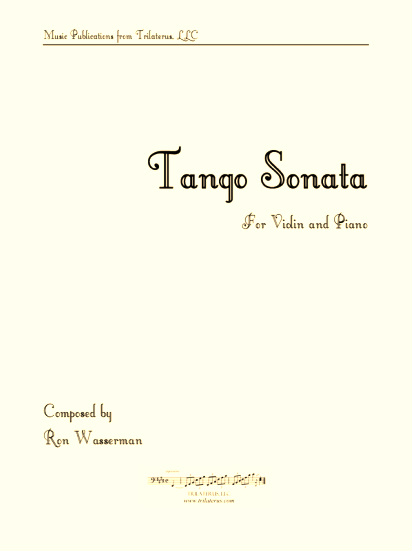 Tango Sonata, for violin and piano
Composed by Ron Wasserman

In three movements.

1. The Violin and Piano Play for the Dancers
2. The Violin and Piano Dance a Tango with Each Other
3. The Violin and Piano Dance with the Violinist and Pianist.

app. 14 minutes.

This piece was recorded by Kurt Nikkanen and Maria Asteriadou.

Performance edition 9 x 12 28 pages.

---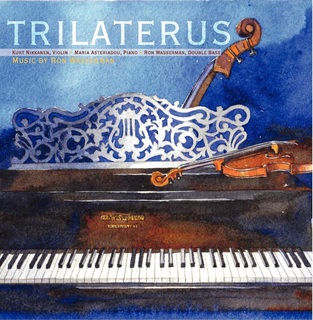 Trilaterus, the CD
Performed by the Trilaterus Trio.

Ron Wasserman, Double Bass and compositions.
Kurt Nikkanen, Violin
Maria Asteriadou, Piano

Contains
Tango Sonata
Trilaterus, (the piece)
Ghaleb and the Donkey
Sonata for Double Bass and Piano.

itunes.apple.com/us/album/trilaterus/id199889571
---
---
Bass Music Series: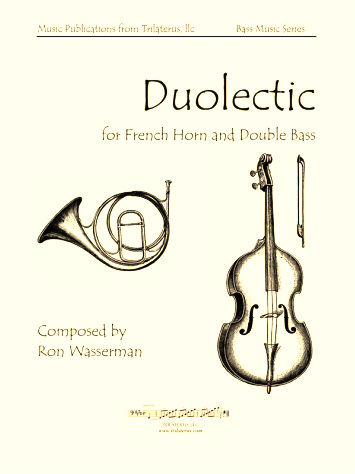 Duolectic,
For French Horn and Double Bass
Composed by Ron Wasserman

In two movements with an interlude.

performance edition 9x12

---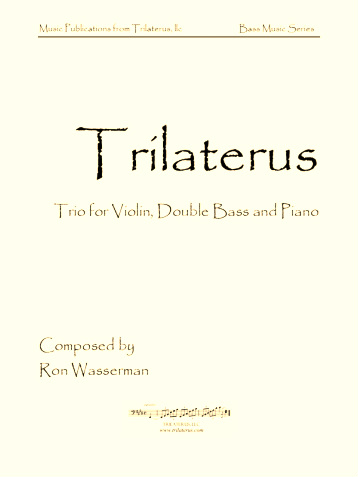 The piece that named the trio, that named the CD, that name company, that named the web site.

Trilaterus, Trio for Violin, Double Bass, and Piano.

Recorded by the Trilaterus Trio, above.

In three movements.

performance edition 9x12 with separate violin and bass parts.

---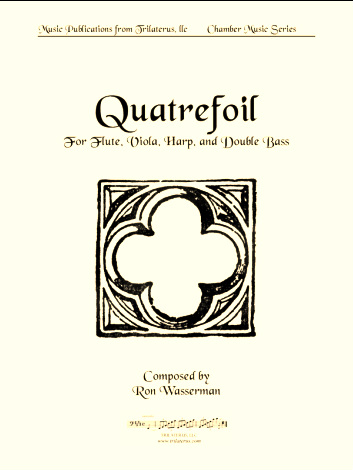 Quatrefoil, for Flute, Viola, Harp, and Double Bass,
composed by Ron Wasserman

Commissioned by William Blossom and the Cicada Arts Chamber Esemble.

In Four Movements. Recorded by the Cicada Arts Ensemble.


performance edition 9x12.


---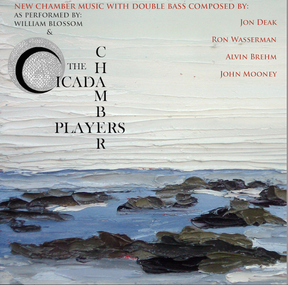 We didn't publish this CD, but we thought we'd put it here anyway.
Quatrefoil, recorded by the Cicada Chamber Players. William Blossom, double bass, Wendy Stern, flute,
Kathering Greene, viola,
Barbara Allen, harp.

www.cicadaarts.org

Also includes music by Jon Deak, Alvin Brehm, and John Mooney.

---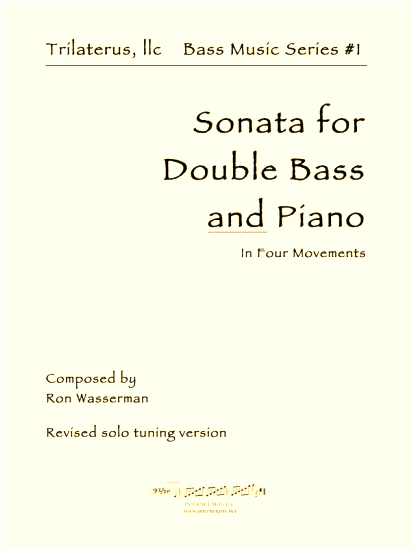 Sonata for Double Bass and Piano
in 4 movements.
1. Allegro non troppo con intrepidezza
2. Adagio alla improvvisata
3. Scherzo (Presto)
4. Doloroso con molto rubato/Cullando e rotolando 36 (8:00)

Approximate time: 28 minutes

The video below uses a recording of this first movement of this piece as its soundtrack.




---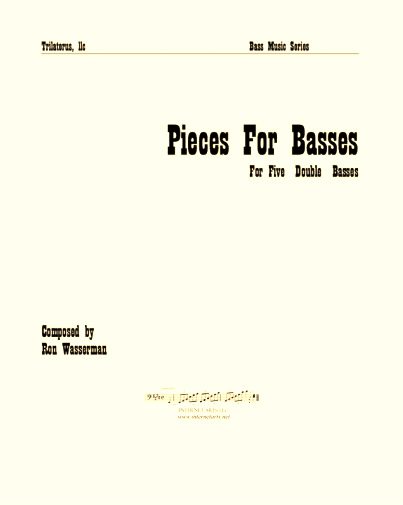 Pieces for Basses, for five Double Basses.
The first piece I ever wrote, way back for one of my college recitals. Haven't performed it since about 1990 either. Time to change that happenstance?

1. Contemporary Clichés, or Variations on a theme of Ellington
2. Old Style Originality
3. Pieces Increases
4. Traces of Pieces for Basses
5. Pieces ceases

Composers Note:

As an option, the bassists can switch parts between movements depending on their individual preferences, their levels of jazz and improvisational skills, and/or to give different players the solo voice.




---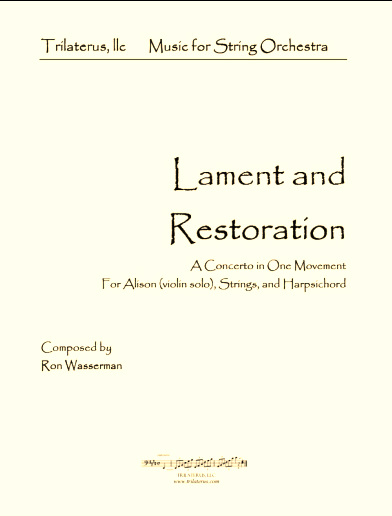 Lament and Restoration. Our most performed piece. This was composed for Alison Crowther, who's son was lost on 9/11, The Man in the Red Bandanna. Its theme is how she used her love of music and the violin to help recover from her loss.

String Orchestra, Harpsichord, and violin soloist.

In one movement, 15 mins.

---
To the left is the cover of the wonderful recording Alison Crowther made of Lament and Restoration. Paolo Michelle Bordignon, Harpsichord. The Gracemusic Chamber Orchestra, conducted by Andrea Quinn.


To the right is a video of a live performance in 2012 with Alison Crowther soloing with the Richmond (Staten Island) symphony.

The music in the video starts at app. 2:33

itunes.apple.com/us/album/lament-and-restoration/id211654994
---
Never performed in concert, but recorded on the above album.

Suite of Historical Dances
For Strings and Harpsichord (continuo)
Including an Overture in the French Baroque Style
~and~
Several Movements in Various Keys

1. Overture (8:57)
2. Polka (3:00)
3. Waltz (2:26)
4. Tango (5:46)
5. Jitterbug (3:00)
6. Hustle (1:48)
7. Moon Walk (6:17)
Approximate length: 32 minutes.
---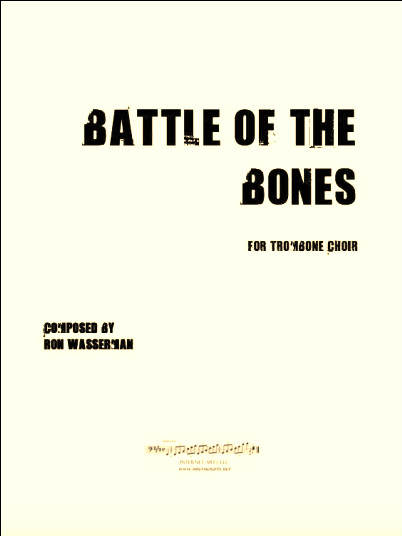 Battle of the Bones
for eight trombone choir
composed by Ron Wasserman

4 jazz trombones (3T, 1B) battle 4 classical trombones (3T, 1B) for supremacy of the musical world.

In 1 movement, app. 9 minutes.
---